Whether you want to book a room in a B&B castle, stay in a self-catering lodge in the grounds of a castle estate, or exclusively hire one for a wedding anniversary party, there's something for you. Let's hope my fiancé reads this…
To help him out, here's a few places where I'd happily spend a weekend:
Dundas Castle, South Queensferry, Edinburgh
Ok, to me this one is real honeymoon and wedding venue material. Overlooking the River Forth, Dundas is a stunning castle with a fascinating history. The oldest part of the castle is the Auld Keep where, in days gone by, the local people could find refuge from battles. Hidden away by its own loch, The Boathouse is a perfect refuge from modern life, amongst 500 acres of castle parkland. The castle itself is an exclusive use venue featuring a sweeping staircase, cosy open fires and packed with character.
Glengorm Castle, Isle of Mull, Argyll
I love the idea of waking up and looking out the window at views over the Atlantic. This turreted castle is a B&B, and also offers self-catering accommodation within the estate. With standing stones, Iron Age forts and Loch Mingary to explore, I can just imagine whiling away an afternoon and perhaps spotting eagles, seals and otters during a walk around Glengorm.
Culzean Castle, Maybole, Ayrshire
The sumptuous surroundings of the Eisenhower apartment on the top floor of this elegant castle certainly look like they'll create that VIP feeling! Ride up in the 1920s elevator to this sumptuous apartment which has six suites that can be booked individually or on an exclusive basis. Or why not book the self-catering cottages within the castle's surrounding country park? During your stay you could visit the deer park, take to the beach or discover Robert Burns' country in nearby Alloway.

Ackergill Tower, Wick, Caithness
For that romantic getaway feel, Ackergill Tower is an ideal location. A stone's throw from John O'Groats in Caithness, this 15th century castle ticks many boxes for me. Stunning coastal views – yes, largest tree house in Europe – yes, three course Sunday lunch – yes. There's plenty more to enjoy in and around the castle too, including archery, coastal walks, horse riding and kayaking.
I'm a big fan of the islands of Argyll, so my favourite has to be Glengorm, but all of them are very tempting! Which would you choose? Let us know using #ScotSpirit on our Facebook, Twitter, and other social media channels.
Check out more castles to stay in to start planning a magical break away.
Cheers to that!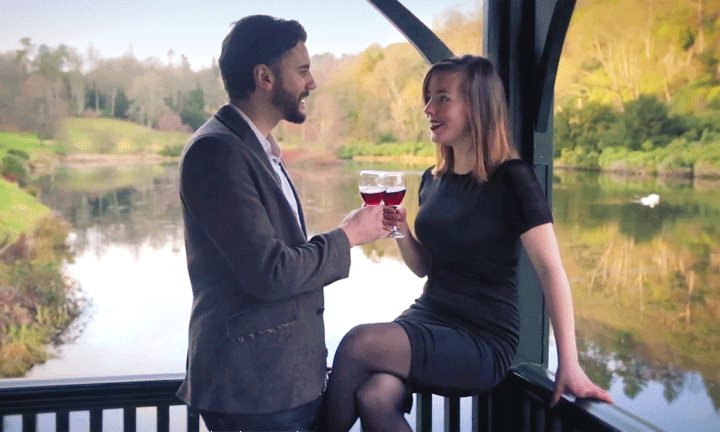 The Boathouse, Dundas Castle